Early music for keyboard instruments
The European music history, from late Middle Ages to the Baroque period, is in many ways the story about the long but steady move of monophony towards polyphony. In this story Spain, because of its historical development and geographic placement, plays a very special role.
The European and Near Eastern history of music each followed a separate track:
In Europe the development from monophony and modal practice went smoothly towards an expression of several independent voices, and a refinement of their harmonious interaction. In the Arab, Persian and Ottoman part of the world, on the contrary, the development of melody, ornamentation and rhythmics continued within a monophonic, modal form of expression.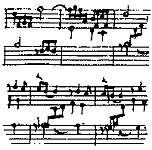 The best of all worlds
As a fairly special case the musical aesthetics in Spain were shaped under the influence of both the Christian, the Islamic and the Jewish culture (read a short historical overview here). The melodic content often showed a popular or folk-like character, and composers and musicians frequently used well-known and popular melodies as basis for new compositions.
The early Spanish music also gladly fetched its rhythmical fundament in the popular dances of the period. Thus in the Spanish art music from the 16th century and on, melody, ornamentation and rhythm kept a much more prominent role than in any other European music dating from the same time – without neglecting the period's still growing demands for refined harmonic structures.
You can say, in a way, that the early Spanish music contains the best from all worlds.

Audio clip: Adobe Flash Player (version 9 or above) is required to play this audio clip. Download the latest version here. You also need to have JavaScript enabled in your browser.
Melody and rhythm
El Arte de Tañer, The Art of Touch is a fascinating musical journey through the domains of keyboard music of bygone times, offering the audience a pleasant encounter with beautiful, elegantly shaped melodies and temperamental rhythms that are still able to move a concert audience.
The music has originally been written for small keyboard instruments, i.e. small organs or harpsichord, and the concept of dance is the heart of the musical expression. In this kind of music you're not met by an insurmountable wall of sound, the rather transparent musical atmosphere is dictated by the melody and the rhythm.
The Concert is offered as a solo concert, or in different variants where the keyboard player is accompanied by a dancer, a percussionist and/or a singer.

Program example:
Sonata in g minor, Domenico Scarlatti, Italy/Spain 18th century
Suite in d minor, Élisabeth Jacquet de La Guerre, France 17th century
Intento in F mayor, José Lidón, Spain 18th century
Seguidillas religiosas, Manuel Plá, Spain 18th century
Sonata in A mayor, Domenico Scarlatti, Italy/Spain 18th century
Todo el mundo en general, Francisco Correa de Arauxo, Spain 17th century
Xácara, Anon., Spain 17th century
Fandango, Padre Soler, Spain 18th century

Keyboard instruments & musical direction: Poul Udbye Pock-Steen
All participating musicians are members of Solistforeningen af 1921.