Spanish and Latin-American baroque music from the 17th and 18th century
The songbook from El Dorado is a dramatic musical story about an universal conflict symbolized by an idealistic Jesuit dream of creating Paradise on earth in the South American jungle – and the resistance they were bound to encounter from unscrupulous contractors of the Old World, to whom an earthly paradise could only be built of gold!
The world is in color
Now reality is, as we all know, not exclusively black and white. Sometimes even war and oppression, as a side effect, unintendedly create a fertile soil for rich musical traditions. The world is certainly in color and the baroque music from Latin America, formed by this special mixture of local and European musical traditions, is an extremely colorful palette of sounds and rhythms unobtainable in any other place.
The music of the conquistadors was, as a matter of fact, already a compound phenomenon, long before it was brought to The New World. Shaped through centuries by Oriental traditions and inspired significantly by the musical expression of the latest immigrants, the Gypsies, Spanish baroque, with its inciting and often complex rhythmical patterns, clearly differs from other European baroque music.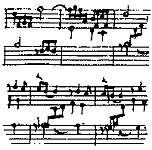 Musical sources
The Songbook program is created from various 17th and 18th century Spanish and Latin American sources. The genre is baroque, but, as already mentioned, a different kind of baroque music. The pieces of the Songbook are based, to a higher degree, on contemporary popular tunes, just as they often borrow their rhythmical scheme from popular dances such as sarabanda, bolero and fandango.
Also parts of the instrumentarium are unusual; In addition to the common continuo instruments such as harp, violin, viol and harpsichord, this particular baroque program also features instruments like "exotic" guitar variants, organetto, keenan flute, mouth-gigs, maracas, castanets and other percussion instruments.
Inspired by a Mexican architectural term, we've named the music popular baroque.

A scenic concert
The concert program is composed as a dramatic unit, with light effects and poetry by Spanish and Latin-American baroque poets, all together providing a theatrical frame for this beautiful and temperamental music that shows both popular and sophisticated traits.
The concert is offered as a church- or chamber concert with 5 or 6 musicians, (soprano, violin, viol, harpsichord, harp, baroque guitar, cuatro, flutes and percussion, or – where space and finances allow for it – as a larger ensemble version with a an extended continuo group.
The concert doesn't call for special technical installations or large scenic space.

Concert program example
Montes, que amanece Laura – Anonymous composer, Spain (17th century)
Afuera, afuera – Manuel Machado, Portugal (17th century)
¡Al aire se entregue! – Juan de Hidalgo, Spain (17th century)
Convidando esta noche, Juán García de Zéspedes, México (18th century)
Canzona, Dominico Zipoli, Bolivia (18th century)
Todo el mundo en general, Francisco Correa de Arauxo, Spain (17th century)
No hay que decirle el primor, Anonymous composer, Spain (17th century)
Ojos pues me desdeñais, José Marín, Spain (17th century)
Seguidilla y Sarabanda, Anonymous composer, Spain/México (18th century)
Cachua Serranita, Anonymous composer, Peru (18th century)

Musicians:
Please click on the name for a complete CV
Signe Asmussen Manuitt – soprano, violin
Mogens Rasmussen – viols
Anne Marie Høst Mortensen – harps

Ernesto Manuitt – cuatro, percussion
Poul Udbye Pock-Steen – harpsichord, organetto, flutes and percussion.