Long forgotten songs and other longings
"Songs from the borderland" is a concert of virtuoso instrumental music and spell-binding songs from the borderland between the East and West, between art music and folk music tones, between early classical music and Middle Eastern traditions.
The genre is Early World music.

World music in the Middle Ages
The term World music might be of a later date, but thats certainly not the case with the concept behind the term. Fusions of Western art music and non-Western music, just like merging of Western art music with folk music from any region of the world, have been taking place throughout history – at least from the 9th century until our days, and maybe even farther back. (1)
In the present concert program Via Artis Konsort focuses on a late Medieval repertoire, i.e. music from about 1100 to 1500, a period with an extensive world musical activity. This exciting concert program thus presents music, and musical combinations, from the entire area of what was in Medieval times considered the civilized world.
The music is extrovert and the song lyrics tell of cheerfulness and death, crimes and miracles, war and love; This is the music of great passions and longing!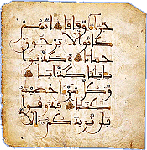 The musical expression
The keywords are ensemble playing, timbre, rhythm and improvisation. These are important focus points because music wasn't always notated in an explicit form, like the case is with music in later times. The ability to create a valuable musical expression on the spot, based on simple templates, was a considerable part of a musician's professional skills.

Audio clip: Adobe Flash Player (version 9 or above) is required to play this audio clip. Download the latest version here. You also need to have JavaScript enabled in your browser.
Ensemble concert or scenic concert
The concert is offered as a church- or chamber concert with 6 musicians, (soprano, viol, organetto, harp, citole, hurdy gurdy, dulcimer, flute and percussion), or – where the space and finances allow for it – as a scenic concert with video collages and poetry by long forgotten medieval poets and troubadours, all together providing a theatrical frame for this beautiful and fascinating music.

The concert doesn't call for special technical installations or scenic space.

Program sample:
Cantiga suite – Alfonso X el Sabio, Spain 13th century
Estampie – Anonym from Robertsbridge Codex, 14th century
Mout m'abelist – Maroie de Dregnau de Lille, France, 13th century
Ecco la primavera – Francesco Landini, Italy, 14th century
Den lyse dag – Anonymous, Scandinavia, before 15th century
Chominciamiento de gioia – Anonymous, Italy, 14th century
Kurdi Peşrev – Prince Korkut, Tyrkey, 15th century
Du livsens bröd, Traditional, Sweden
Lanquan li jorn – Jaufre Rudel, Occitania, 12th century
Musicians:
Please click on the name to read a complete CV
Bente Vist – soprano
Mogens Rasmussen – viola da gamba
Anne Marie Høst Mortensen – harp
Poul Udbye Pock-Steen – organetto, pipe and tabor, percussion

The musicians of Via Artis Konsort are all members of Solistforeningen af 1921.
(The Danish chamber soloists association)

______________________________________________________________________

Notes ad (1)
Persian art music, 10th to 12th century
Cantigas de Santa Maria (songs from the court of the Spanish king Alfonso X, 13th century
13th century Muwashahat from Al-andaluz
Italian dance music (estampitte), 13th century
15th century to 18th century Turkish classical music
Swedish folk hyms 16th to 20th century
18th century Latin-American baroque music
18th century Cuban dance music, 19th century
European pop- and rockmusic, 20th century